Chicken and Kale Eggrolls.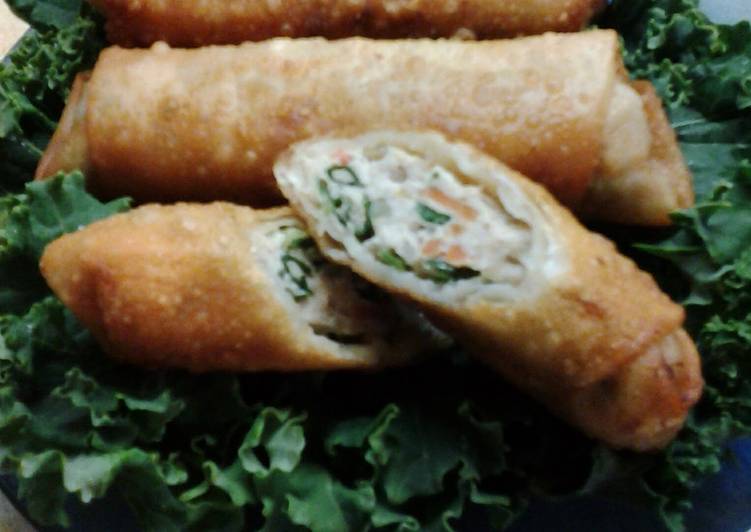 You can have Chicken and Kale Eggrolls using 14 ingredients and 7 steps. Here is how you cook that.
Ingredients of Chicken and Kale Eggrolls
Prepare 1 1/2 lb of ground chicken.
It's 2 cup of chopped kale.
Prepare 1 cup of chopped bean sprouts.
You need 3/4 cup of shredded carrots.
You need 4 of chopped green onions.
You need 1 of egg.
It's 1/2 tsp of sugar.
It's 2 tsp of soy sauce.
You need 1 tsp of garlic powder.
It's 1/2 tsp of sesame oil.
You need 1/4 tsp of chinese 5 spice seasoning.
It's 1 packages of egg roll wrappers (I used a 1 lb. pkg).
You need 1 of egg white, beaten.
It's 1 of canola oil for frying.
Chicken and Kale Eggrolls instructions
In a large bowl combine ground chicken, kale, bean sprouts, carrots and green onions..
Add egg, sugar,soy sauce, garlic powder, sesame oil, and chinese 5 spice seasoning. Mix well..
Take 2 tablespoons of filling and place it at the bottom of egg roll wrapper..
Roll wrapper around filling and tuck in sides as you roll..
Brush the end of the wrapper with beaten egg white on the edge of the wrapper before rolling up completely..
Brush a little egg white on the outside of the seam to ensure seams are sealed..
Fry in canola oil or vegetable oil on medium heat for 5 to 8 minutes in small batches. Drain on paper towels. Serve with your favorite sides and dipping sauces..