Kale and Roasted Sweet Potato Soup. Scrambled eggs in the morning, sautéed vegetables and stir fries. They jive in your soup too. With cannellini beans, chicken broth and some white wine.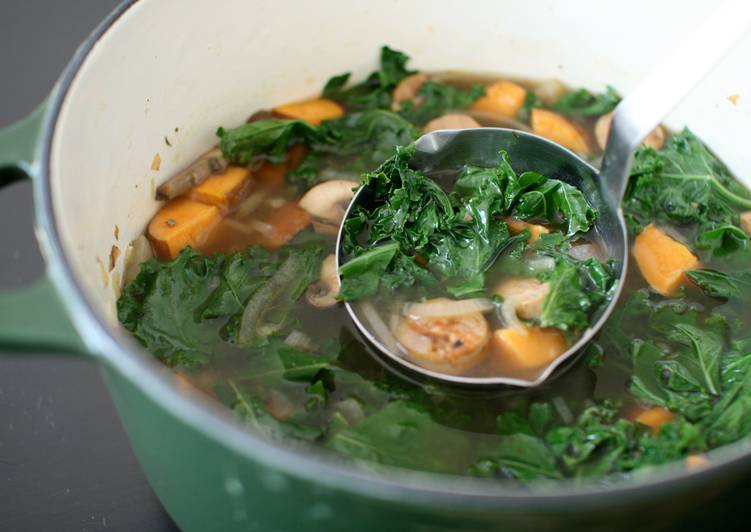 Heat the olive oil in a large soup pot over medium heat and add the onion, garlic, and jalapeño. I like to brown them a little bit with the aromatics to get them nice and flavorful. Add tomatoes, coconut milk, water, spices, and peanuts. You can cook Kale and Roasted Sweet Potato Soup using 12 ingredients and 10 steps. Here is how you achieve it.
Ingredients of Kale and Roasted Sweet Potato Soup
Prepare 3 of Sweet Potatoes , medium , cubed.
Prepare 1 of Yellow Onion , medium , thinly Sliced.
You need 5 Cups of Kale , chopped , stems removed.
It's 1/3 Cup of Mushrooms , Sliced.
It's 3 of Chicken Sausage.
Prepare 6 Cups of Chicken Broth.
Prepare 1 Clove of Garlic.
Prepare 1/2 Teaspoon of Thyme.
It's 1/2 Teaspoon of Coriander.
Prepare of Black Pepper.
You need of Salt.
It's of Olive Oil.
Simmer until sweet potatoes are fork-tender. This Roasted Carrot and Sweet Potato Soup with Kale Pesto is a nod to the best of the season. Carrots, sweet potatoes, garlic and onion are first roasted until perfectly caramelized in order to bring out a depth of flavor that cannot be matched by a simple sauté. On a baking sheet lined with parchment paper, place sweet potato and toss in olive oil and season with a pinch of salt and pepper.
Kale and Roasted Sweet Potato Soup step by step
Preheat oven to 400F. Place cubed sweet potatoes in a baking pan or dish. Season with salt and pepper and coat with olive oil..
Bake for 20 – 25 minutes, until soft. Remove from oven and set aside..
In a dutch oven over medium heat, warm some olive oil..
Cook the chicken sausage until just browned..
Add in onion and mushrooms and cook for about 3 – 5 minutes, until softened..
Add in garlic, thyme, coriander, some sea salt and black pepper. Stir in and cook for about 1 minute..
Pour in chicken stock and bring to a boil..
Reduce heat and simmer for about 5 – 10 minutes..
Add in roasted sweet potatoes and kale..
Push the kale down into the soup so it's submerged. Cook for about 3 – 5 minutes, until bright green and tender..
Whip up a hearty side dish with this filling sweet potato and kale casserole, ready in minutes. It'll make a great addition for any family meal.. Roasted sweet potatoes, sauce (water, butter [cream, salt], half and half [milk, cream], cornstarch, soybean oil, roasted garlic, flavor enhancer [milk solids, nonfat dry milk, salt, natural flavor. Line a baking sheet with parchment paper or a silicone mat then set aside. Kale Salad with Roasted Sweet Potato, Dried Cherries, Feta & Pepitas Today I am sharing this recipe from The Healthy Glow Collective , a community and resource that encourages women to live a healthier, vibrant lifestyle and glow from the inside out.